Dilution Air Fan Applications
Dilution air fan applications are common in operations that use combustion-driven boilers, furnaces, incinerators, and cooling systems. You can find these in power plants and almost any industrial operation.

The problem with combustion is that it introduces contaminates like Carbon Dioxide (CO2) or Nitrogen Oxide (NOx) into plant emissions, which are highly regulated by the US Environmental Protection Agency (EPA). The strict pollution control guidelines and substantial fines for noncompliance mean these operations must manage their emissions very carefully.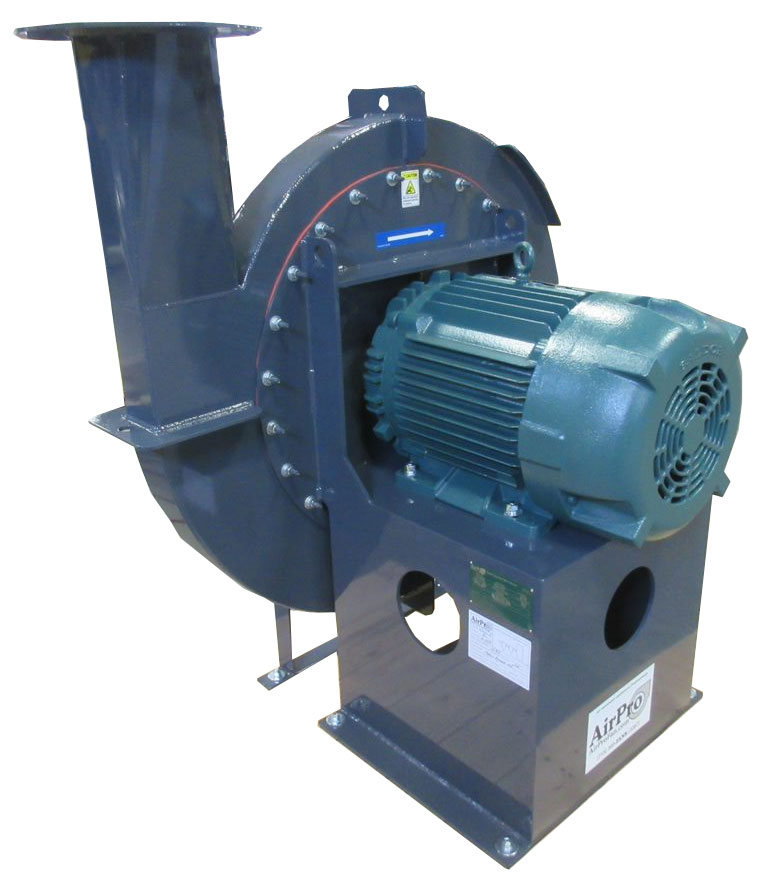 A forced draft fan helps maintain an acceptable concentration of contamination in the plant emissions by injecting fresh air into the airstream between the operations and exhaust.
Our representatives with Schaefer Industrial Air frequently work with dilution air applications, so we spoke with them to get some insights for you.
Insights on Dilution Air Fan Applications
Schaefer Industrial Air owner and AirPro representative Todd Schaefer outlined the important role of designing fans for the variable flow and performance requirements of a dilution air fan. Here are some highlights from our conversation with Todd.
Sizing for Stability
The dilution air fan needs to accommodate variable flow without disruption from a surge condition. That means you must select the right size fan large enough to accommodate all required operating points on the fan curve.
Volume Control for Variable Flow
Variable flow also requires volume control using accessories like an inlet vane damper and/or a variable frequency drive (VFD). These allow you to change speeds and throttle the airflow to smooth out the volume through the fan. Be sure to add a filter screen to protect the damper and other downstream equipment from debris that can enter the system in the ambient air.
Dependable Efficiency
The dilution air fan is essential to keep the plant running safely in compliance. It needs to be a workhorse you can rely on. High-pressure blowers and backward curved fans often fill the combined need for efficiency and durability.
"These fans are simple but critical. AirPro's robust, heavy-duty dilution air fans are efficient, and they last a very long time. I always know I can count on them so my customers don't have to worry about downtime." -Todd Schaefer, Schaefer Industrial Air
Learn More About Dilution Air Fan Systems
We want to thank our rep partners at Schaefer Industrial Air for their contributions to our dilution air fan application overview. To learn more from Schaefer, visit their website or contact them at (630) 672-4242.
If you have questions about industrial fans for dilution air fans or any other application, call 715-365-3267 or contact us, and one of our engineers will connect with you.
Related Content
Here are related posts and case studies that might be of interest as you think about your application.
We'll be highlighting several more of our applications and reps through the course of the year. Keep your eye on the All Things Fans blog and sign up for our newsletter to stay up to date, and please join the conversation on LinkedIn.
Contact us for a connection with your local rep or to schedule an appointment with an application engineer.